Wandsworth Green Party would like to extend a huge thank you to all those who voted Green on the 23 May and to all those who contributedto the EU election campaign.
The Green Party has had the best election result for thirty years - we've gone from 3 to an amazing 7 MEPs of whom five are women. Across the UK, over 2 million people have voted for a positive relationship with the EU and for urgently tackling the climate crisis.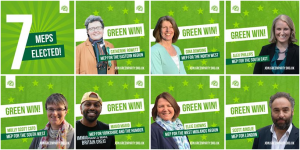 Here in Wandsworth we had a crowded field with 10 parties and 11 independents on the ballot paper but we achieved the 3rd highest number of votes, comfortably beating the Tories, the Brexit Party and Change UK.
The message is clear - everyone wants to see action on climate chaos and the Greens are the ones to ensure that we do.  Our seven MEPs will be joining a strong block of 70 Greens in total in Europe with environmental justice and preserving our planet for future generations top of the agenda.